Superintendent Message
1 day ago
Dear Parents of MCSD Students,

Given the nature and tone of the information shared with you yesterday morning, I would like to provide an update on the threat made against Moffat County High School. According to Craig Police Department Captain Bill Leonard, "The police department will continue to investigate, but there is no immediate danger." Both students have been located by police; one is in custody in Craig, and the second is in custody at an undisclosed location out of state.
I want to take a quick moment to thank the Moffat County School District Staff and local law enforcement agencies for their service over the past two days. I am acutely aware of the emotion surrounding April 20th and past events in Colorado. Students take their cue from the caring adults in the schools. I was in schools yesterday and today and the staff and law enforcement consistently demonstrated composure and poise.
When I was informed of the threat I was both terrified and heartbroken. Unfortunately, this is a scenario that has played out all too frequently on the national stage. While we can never guarantee what the future holds, as parents of MCSD students, I hope you trust that the agencies and organizations tasked with keeping our students safe have strong relationships with open communication. It is my sincere hope that our students, staff, parents and community never endure an experience like this again.
Whether you sent your students to school today or elected to keep your students at home, please know that I respect your decision. We can't wait to see everyone first thing Monday!
David Ulrich, Ed.D.
Superintendent
Board of Education Vacancy
3 months ago
The Board of Education of the Moffat County RE-1 School District is accepting applications from persons interested in serving on the Board of Education from the date of appointment in until the next regular biennial school year election in November 2019. To be eligible for appointment, each candidate must:
be a registered elector of the school district for at least twelve consecutive months prior to the date of appointment

be a resident of the director district in which the vacancy exists
have never been convicted of a sexual offense against a child.
Any person who meets the qualifications and who desires to be considered for the appointment is invited to reach out to a Board of Education Member, or contact Sara Memmott at (970)826-6261.
District 6 Boundaries:
Point Of Beginning (POB) - Thirteenth Street and Colorado Street
Colorado Street south four blocks to Ninth Street
Ninth Street extending line west to Barclay Street
Barclay Street north one block to Tenth Street
Tenth Street west two blocks to Ranney Street
Ranney Street north extending line to North City Limit
North City Limit to Highway 13
U.S. Highway 13 north to Northern County Line
Northern County line east to Eastern County Line
Eastern County Line south to U.S. Highway 40
U.S. Highway 40 west to Haughey Road, extended (City Limit)
Haughey Road north to Ninth Street
Ninth Street west to Bryan Way
Bryan Way north to Eleventh Street
Eleventh Street west to Kowach
Kowach north to Thirteenth Street
Thirteenth Street west to Colorado Street (POB)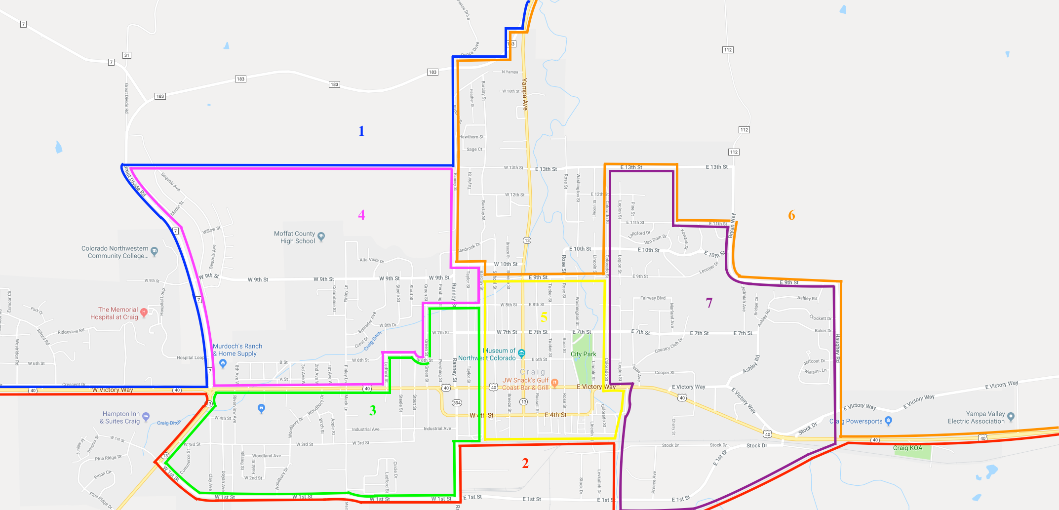 (District 6 is outlined in orange)